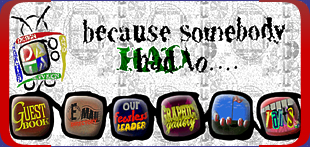 The brainchild that would come to be known as dataTV (Design and Television Animation) was created in the winter of 1994 by founder and CEO Adam Bell. After receiving a Quantel/Broadcast Designers Association scholarship award, Bell was freelancing in both Philadelphia and South Florida, but had not yet begun utilizing the internet when he made a serendipitous visit to a friend at Turner Broadcasting in Atlanta, GA. There, using what was then a rare T1 "high-speed" line for Internet access, Bell truly saw both his own potential and the potential of the web. At that time, the beginning era of Netscape and Mosaic browsers, the internet contained a tremendous amount of unique and interesting niche websites; however, they mostly had horrific designs and user interfaces. Bell recognized the need for his knowledge and talent in the area and anticipated the need the public would have for such long before many people had ever heard of the internet. Unlike many beginning web designers and developers, Bell had a background and knowledge of design from the TV perspective. Essentially, he was still designing for a screen; just a very different screen.
Bell launched dataTV officially on June 1, 1996, using two separate layouts for different screen resolutions, and besides showing off his portfolio and providing contact information, he also used dataTV to "blog" long before blogging was a common web writing tool. He created "Rantz!", sharing his unique and humorous views on the television and broadcast design industries as well as any "dirt" he could dig up on the business. Controversial? You bet. But it enjoyed a loyal unique cult following in the industry and established him as a part of the zeitgeist.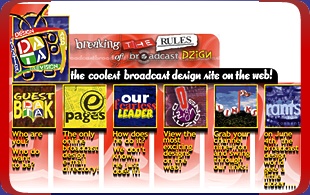 In 1997, Bell transferred to New Orleans to work as Creative Director of an educational print and video company that was branching out into the web industry. When plans to eventually merge dataTV in with the new company fell through, Bell was left at loose ends. What could have been a major letdown, however, turned out to be the catalyst for Bell and dataTV, as the web industry in New Orleans was about to explode. Bell took quick advantage of it. In June 1998, Bell created an all-Flash e-commerce site for Figueroa Brothers, Inc. Melinda's Hot Sauce brand, the first of a series of websites Bell would produce for the food purveyor and the first of many food related sites dataTV would be recognized for. It's a relationship that continues to this day.
Shortly thereafter, Bell began designing for a new record label, Basin Street Records, one of the most recognized labels in Louisiana Music, and set up a launch pad for dataTV to dominate the music scene in the Pelican State. dataTV created music projects for ELM Records (Ellis and Jason Marsalis), New West Records, Mardi Gras Records, Papa Grows Funk, White Oak Productions, Cowboy Mouth, Big Pearl and the Fugitives of Funk, Louisiana's Music Bible, offBeat Publications and the Louisiana Music Directory. Bell also designed food sites for the legendary Acme Oyster House, Culinary Institute of New Orleans, Aunt Sally's Praline Shops, The Nutrition Company, Vitality Juice, Java and Smoothies, Phytoceutical Formulations, New Orleans Coffee Works, Pride Marketing and Procurement & many more. In addition, he incorporated Flash design and motion graphics for celebrity chef Emeril Lagasse's site Emerils.com.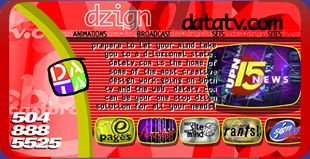 Bell was also involved heavily in the local tech community. He presided on the board of the New Orleans Macintosh User Group and wrote for Digital Media Net and its series of websites. A strong series of relationships was begun as a result, in particular with Macromedia, where Bell won three Macromedia Site of the Day awards and eventually become part of Team Macromedia, the all-star team of web designers and developers. After Adobe purchased Macromedia in 2005, the program was changed to Adobe Community Professionals, and today Bell is part of  Adobe Community Champions, showcasing individuals who are strongly involved in the local tech community wherever they may live.
In November 2004, Bell collaborated with NOMUG to create MiniMAX, a one night mini web conference for the local tech community. The event featured six speakers who produced mini versions of their typical 45-60 minute presentations. Intended as a one-time only occurrence, it blossomed, and Bell was asked to produce versions of MiniMAX for CFUnited in Bethesda, MD and FITC in Toronto, ON  to great success. Today, the tradition continues; in October 2010 MiniMAX X was created, with plans for future events to continue for years to come.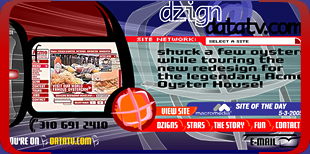 In August, 2005, Hurricane Katrina hit the Gulf South and drastically altered the entire region. Bell was forced to evacuate with his computer equipment after the levees broke in New Orleans, and made a quick decision to relocate to Los Angeles. It was a market Bell already knew well, and he hoped would be a fruitful move. It was. Despite challenges and difficulties, dataTV is now recognized as one of the top web design studios in Southern California, producing content for LA area companies including Ford Motor Company, Tender Greens, Granola Gourmet, JamWest Foods, Patty's Pizza, Pane e Vino, Rusko, Alkemi Entertainment and many others. Bell has also collaborated with other PR and Tech firms in the area including eSolutions, Big Method, Wingman Advertising and Southpaw Digital.
Bell continues to be involved in the New Orleans region working with many of his long time clientele as well as with new ventures, helping to create the brand for Fashion Week New Orleans, Paradise Outfitters, Parish Properties and others. Now prominently involved in the Los Angeles tech scene, Bell founded LAdobe: the Los Angeles Adobe User Group in May 2006 and continues to run it to this day. Bell has also spoken at PROMAX/BDA, the NAB Radio Show, the Screen Actors Guild, the #140 Character Conference, Silicon Beach Fest and at many local user groups across North America.
dataTV continues to produce cutting-edge web content for a variety of online mediums. As the web continues to evolve, dataTV will continue to find the best long-term technologies that will last for years into the future. From Flash in 1997 to mobile website design in 2003 to Social Media in 2006 and HTML5 and CSS motion graphics to this day, dataTV has one of the best batting averages out there in finding the next great technology. dataTV is a pioneer as well as a survivor. We have been through the dot-bomb, the financial crash…and a hurricane. And survived and thrived with it all. Whether you are in the Gulf South, the Southland, or anywhere else in the world, dataTV will provide you with innovative and productive web design, branding, and marketing to get you noticed and produce results.
Remember our slogan. We meant it over a decade ago and we mean it even more so today.
"Over 90% of all websites suck. Join the minority".